GPETTM Post-Consumer Bottle Products
GPETTM is an eco product series made with 80% - 100% post-consumer recycled PET bottle. Recycled bottles are first chopped into chips; weave to yarn and then knit as fabric.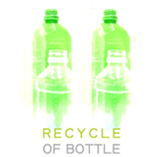 Recycled PET bottle as can be used as substitute of nylon, PP, PVC, PE plastic, which are chemically synthesized from petroleum that is closely related to the emission of green house gas, like carbon dioxide.

Since PET bottle is non-biodegradable and its disposal will increase the burden of landfills. The more PET bottle we re-use, the higher capacity the landfills will be!